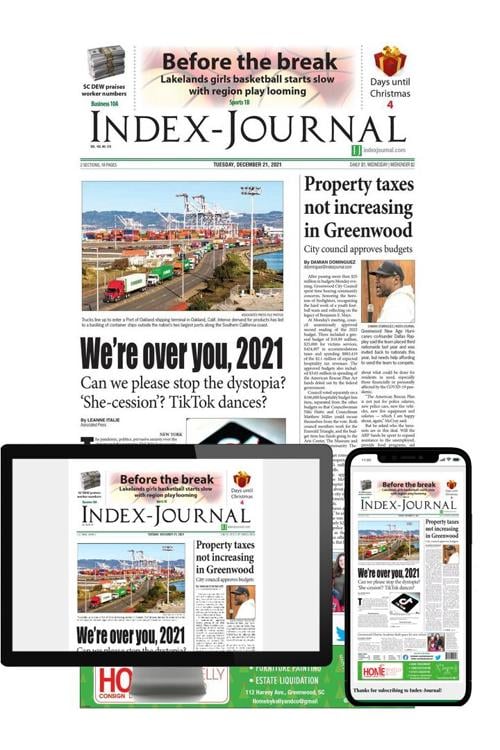 The leading source for News, Sports and Opinion in Greenwood, SC and across the Lakelands
MEMBER OF THE ASSOCIATED PRESS
PO Box 1018, Greenwood, SC 29648
610 Phoenix Street, Greenwood, SC 29646
Business Hours: MONDAY - FRIDAY, 9am to 4pm
MAIN: 223-1411 • NEWS: 223-1811 • FAX:223-7331
---
Choose Your Subscription Option Below
Digital Only Trial Offer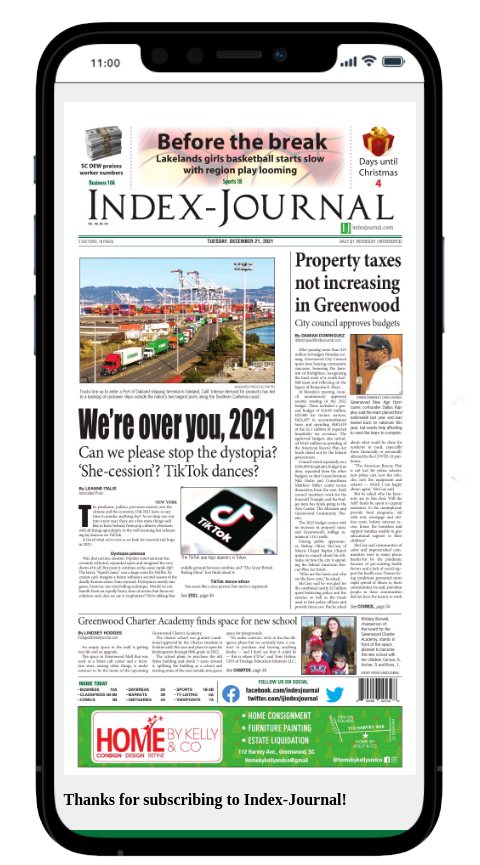 ---
Complete Online Digital & Replica e-Edition Access!
99¢ per week for 4 weeks!
Unlimited Online Digital Access
Online Replica e-Edition Access
Subscriber-Only Exclusive Features
Daily Automated Notifications
Digital Newsletters
NOTE: Advanced payment required for subscription to begin. Promotional offers are valid for new customers only who have not subscribed during the past 30 days, restrictions apply. Premium value will be deducted from any refund amount due to subscription cancellation before the end of the promotional period. By providing an email address with this subscription order, you authorize the Index-Journal to activate digital platform access and that a confirmation e-mail with temporary sign on information will be provided to you. By providing your telephone number you give the Index-Journal permission to contact you by phone regarding your subscription or for promotional purposes. By selecting the EZPay payment option, you authorize the Index-Journal to charge your checking, savings, or credit/debit card account automatically each month and each payment thereafter at the established subscription digital or print delivery rate. This authority will remain in effect until notified. Cancellation is by written notification thirty (30) business days prior to the charging of the credit/debit card account and/or bank account.