Tim Keown bristled after a newspaper quoted an email.
"I have requested SLED to come investigate who is in our email. I'll let you know the outcome. I will get to the bottom of this. I'll not rest until I do," John de la Howe's president wrote to The Post and Courier on April 25, a day after the Charleston newspaper published a story exposing questionable conduct by school employees.
In subsequent emails, he walked back the comments and said he routed the request through his school resource officer and no one had contacted the State Law Enforcement Division. He wasn't sure the agency would even seek an investigation. Keown did not explain in the exchange why it would have been criminal to provide a public record to a journalist. SLED said earlier this month it has no active investigations at the school.
Keown's irritation showed before the story's publication. He pushed back against a journalist in emails before sharing a lengthy exchange with Gerald Moore, a consultant for the school.
"I'm not cut out for dealing with journalists," Keown wrote. "Our attorney told me to not reply, but I also won't be ran over by this dude. Neither should you or Dr Wall or Ken. We've done nothing wrong. Simple as that."
The South Carolina Governor's School for Agriculture at John de la Howe provided these emails and others to The Post and Courier earlier this month in response to a public records request.
The agency did not, however, provide these emails to the Index-Journal in response to its records request.
More than 10 weeks after the Greenwood newspaper of record first raised concerns that documents it received under the state's Freedom of Information Act were incomplete, John de la Howe has failed to offer an explanation about why some emails weren't produced or whether it plans to release these public records at all. Instead, the embattled governor's school asserted it fully complied with the newspaper's request despite evidence to the contrary.
While FOIA provides deadlines to ensure compliance, public bodies can use the public records law as a cudgel to slow or prevent the release of unsavory information, taking every available moment before responding or releasing information, and at times charging exorbitant rates for gathering information. And the law offers no enforcement mechanism for those seeking public records except through potentially costly litigation.
The records were sought as part of Uncovered, an investigative project led by The Post and Courier to ferret out questionable behavior among elected officials and public employees across South Carolina. The Index-Journal is one of 16 newspapers partnering with Charleston publication for the project.
In April, The Post and Courier revealed numerous cases of questionable spending and ethical practices at the storied McCormick County institution, especially payments to contractors from Edgefield. The following month, the Index-Journal exposed how school leaders funneled hundreds of thousands of taxpayer dollars to their contractors of choice. These stories led to reports from the state Office of Inspector General and Division of Procurement Services that detail a laundry list of violations.
Troubled process
On May 3 — more than six months ago — the Index-Journal requested a number of documents to better understand the work Shannon Philpott, a close associate of John de la Howe employee Scott Mims, performed for the school as well as internal discussions of questions from journalists and The Post and Courier's coverage of the school.
— Written statements documenting conflicts of interest for Mims and Facilities Director Ken Durham.
— Emails connected to four John de la Howe email addresses that pertain to Philpott.
— Emails Keown, Durham, Mims and John de la Howe board members sent or received from Feb. 18 — the day the first Uncovered-related FOIA request was sent — to May 3.
John de la Howe waited the full 10 business days allowed by law before acknowledging the request, then included this vague paragraph in its May 18 response: "Your request is granted in part and denied in part. The Agency will produce any responsive emails that are not exempt from disclosure under S.C. Code § 30-4-40, state, or federal law and that meet the definition of public record under S.C. Code § 30-4-20."
This language is not unlike the state Department of Revenue's response to Edward D. Sloan Jr., which was later the subject of Sloan v. SCDOR. In responding to a FOIA request from Sloan, the agency ended with: "If we are unable to locate, obtain or release the requested file(s) you will be notified of the decision and the reasons for it."
In that case, the South Carolina Supreme Court ruled that "DOR's response did not comply with the statutory dictates of FOIA. While DOR did respond to Sloan, its equivocal and evasive response was not a final opinion on the public availability of the requested documents and did not state whether the information requested by Sloan was publicly available for inspection, copying, or production."
The Index-Journal pointed this out to John de la Howe that day and included the detail in a May 28 story. The school has yet to acknowledge this problem or correct its response to comply with state law. Still, the newspaper paid the initial deposit of $93.75 so staff would start working on the request.
Weeks after the deposit was sent, John de la Howe asked the Index-Journal to narrow its request pertaining to the emails of Durham, Keown and Mims, noting the search as it stood would produce a large number of messages including spam. While it is not unusual for public bodies to ask for narrower requests, especially if the terms are broad, this process normally plays out before the public body responds as it can change how much staff time is involved in producing records. The newspaper opted to comply with this request. For Durham and Mims, it sought emails from other John de la Howe and state employees as well as emails from contractors along with all emails sent from either man's account. For Keown, the Index provided a list of search terms and also asked for emails that contained links to or screenshots of news stories by the Index-Journal and The Post and Courier.
The school provided these search terms to a vendor it hired to process the request. Because public bodies can only charge for the time of their staff members, the agency could not and did not pass these charges along to the Index-Journal. Keown said this summer the process cost the school thousands of dollars but hasn't responded to a question about the actual cost of fulfilling the request.
From when it received the deposit, John de la Howe had 30 calendar days to produce the records. On Day 29, the agency said it wouldn't have the files in time. Instead of being ready by June 25, the agency said the records would be ready by July 9.
While the Freedom of Information Act allows for extensions beyond the deadlines set in law, they must be by "written mutual agreement of the public body and the requesting party." In other words, the agency can't arbitrarily decide to blow past deadlines and must request an extension. At the same time, the law says that agreements for such extensions "shall not be unreasonably withheld," so requesters can't abuse the provision when an agency can't reasonably fulfill a request in time.
John de la Howe didn't request an extension, as is required by law. The Index-Journal pointed this out to Keown. On July 9, the agency did it again, only revealing it wouldn't meet the new deadline when an editor asked for a status the day the documents should have been produced, and without seeking an agreement on an extension. In explaining the delay, the school said the "search produced thousands of emails" and reviewing them for possible redacting created a bottleneck. The school finished the process on July 19 and provided the records to the Index-Journal a few days later after receiving the remaining $281.25 due for the request.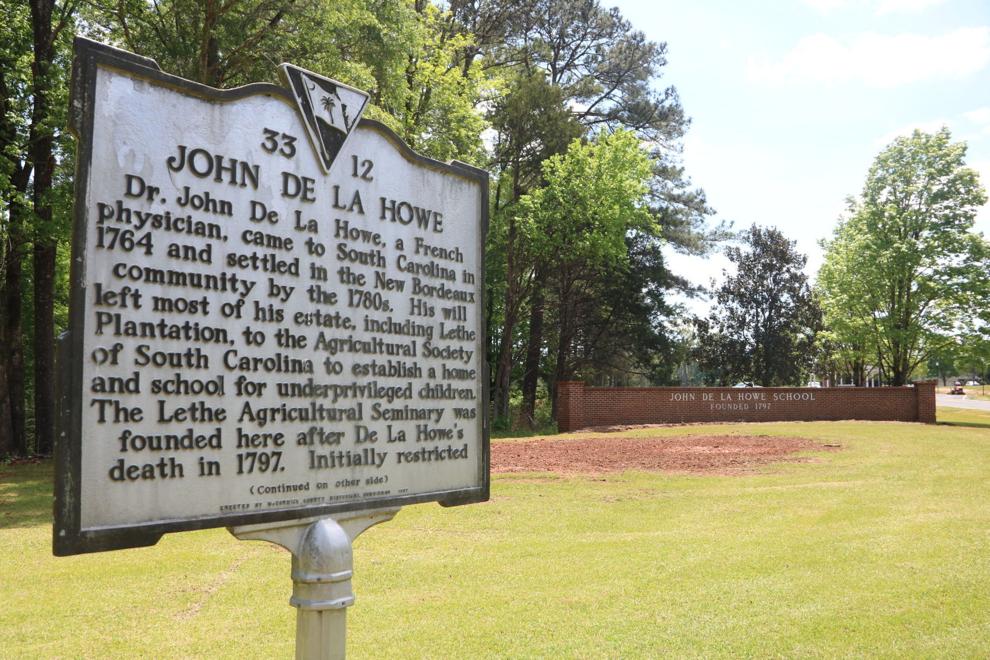 Missing emails
When all was said and done, the school provided 616 emails — not thousands — in response to the May 3 FOIA request along with 352 attached files.
About 1 in 6 of those emails were outside the parameters the Index-Journal gave to John de la Howe, some of which had 4-year-old voicemails attached. One included a 1,200-page software manual. There were also dozens of duplicated emails, all ones that would have appeared in the search for more than one reason.
Meanwhile, there were notable omissions. For instance, the search turned up no emails from Philpott. He certainly sent emails to the school, and some appeared in forwards, replies and materials released in response to other requests to John de la Howe and the State Fiscal Accountability Authority. The emails themselves, however, were not released.
The Index also asked for all emails Durham and Mims received from vendors during a more than two-month span, yet none were produced. Since contractors would have sent pricing information to one or both of them for a number of smaller purchases and needed to contact a staff member before coming on campus, it's unclear why no such emails would be produced.
The clearest omissions, however, were in what was produced from Keown's emails. Of the emails produced for Keown, just one would not have turned up in one of the other searches needed in responding to the request. And while "FOIA," "Freedom of Information Act" and the names of three journalists who sent records requests were among the search terms the Index-Journal provided, only part of the email exchanges Keown had with these journalists surfaced, and only as forwards to Durham whose emails had separately been requested.
One oddity about the emails was the lack of messages sent from outside the agency. Of the emails that were responsive to the Index-Journal's request, just one came from someone who wasn't a John de la Howe employee or a member of one of its boards.
An editor pointed much of this out on Sept. 9 to John de la Howe. The agency offered no explanation, telling the newspaper: "We've produced to you what was generated as a result of your request and we don't have anything else to produce."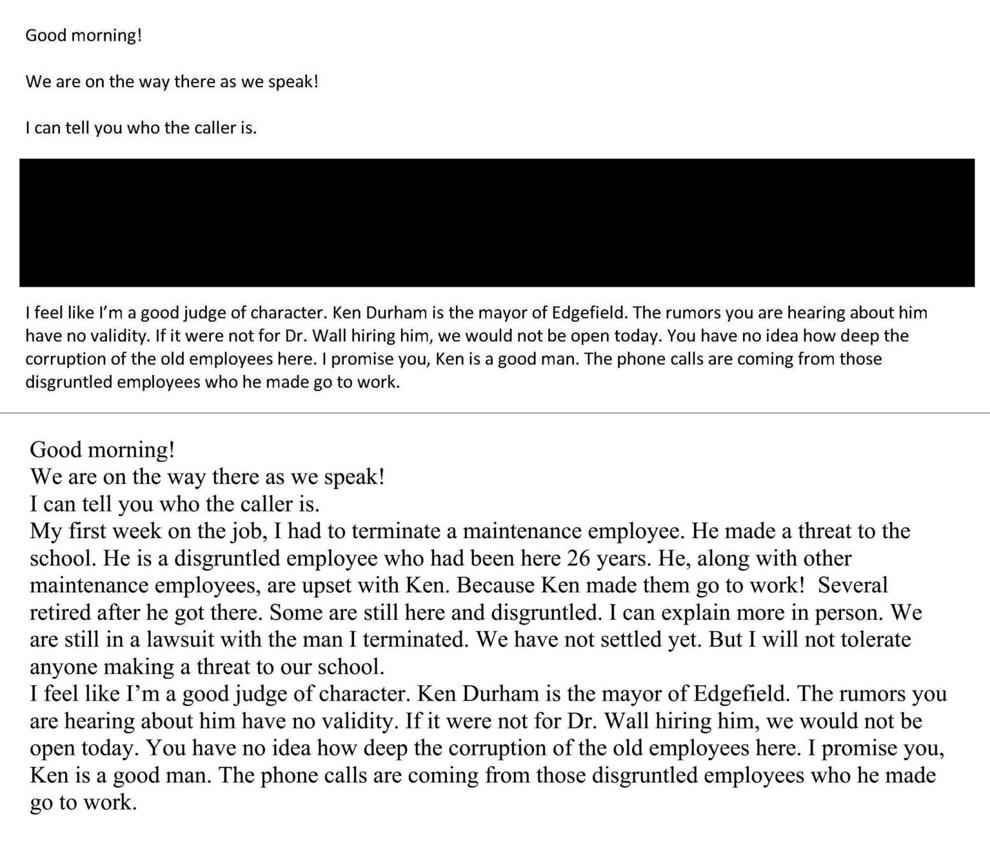 Questionable redaction
The Index-Journal also asked about redactions to three emails but got no response.
One of the messages, an email to a state lawmaker released to the Index-Journal as a forward, was subsequently released to The Post and Courier. It was far less redacted.
One example was this passage: "My first week on the job, I had to terminate a maintenance employee. He made a threat to the school. He is a disgruntled employee who had been here 26 years. He, along with other maintenance employees, are upset with Ken. Because Ken made them go to work! Several retired after he got there. Some are still here and disgruntled. I can explain more in person. We are still in a lawsuit with the man I terminated. We have not settled yet. But I will not tolerate anyone making a threat to our school."
It's unclear why the passage would have been eligible for redaction. It contains no personal identifying information. There are no trade secrets. It doesn't pertain to proposed contractual agreements. There's no work product from an attorney, which would make it ineligible for release because of attorney-client privilege rules.
The Index-Journal sought an explanation on Nov. 12 from Keown about why the email had more redactions on its copy than on The Post and Courier's. It has not received a response.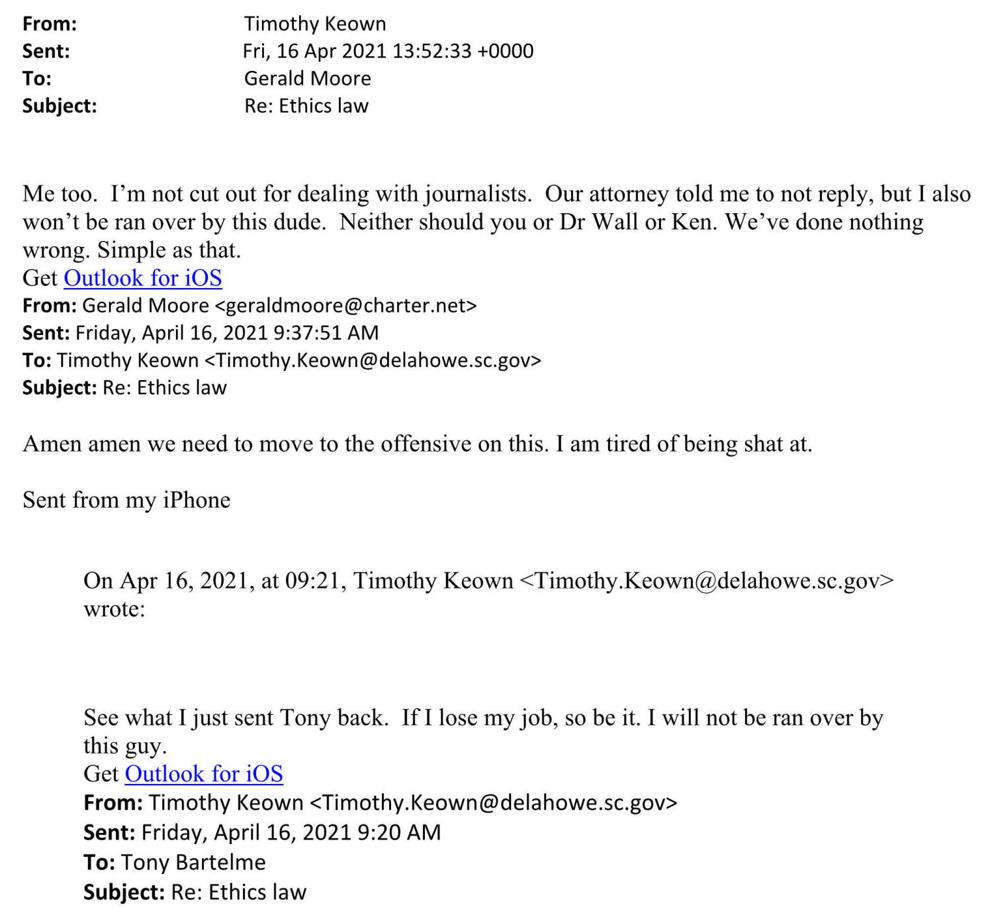 No answers
After The Post and Courier shared emails it received under a FOIA request earlier this month, the Index-Journal reviewed the documents and identified more than a dozen that seemed to meet the parameters it provided to the agency but did not receive. The requests did not have overlapping search terms and it is unclear how many more the Index-Journal should have requested.
On Nov. 12, an editor asked about this disparity.
"Our legal team produced everything that came back with your search," Keown wrote later that day. "As I've mentioned to you before, they handle all of the FOIAs. We don't do that internally because we don't have the staff. It is impossible for anyone here to withhold an email, our legal team has full access to everything in our server."
The newspaper followed up by sharing an email that wasn't provided to the Index-Journal. Keown did not respond. Instead, attorney Chris Johnson with Columbia-based Gignilliat, Savitz & Bettis LLP wrote back on Nov. 16: "The School cannot explain why you did not receive emails that you have not identified to us that you claim you expected to see, nor can we produce them if we don't know what they are. (And production would seem to be irrelevant since you apparently have the emails that you have not identified.) Nor can the School explain to you why 'probably a few dozen emails' that you have not otherwise identified were produced in response to the Post and Courier's request and not yours, other than to say that its request was different from yours. (And again, production would seem to be irrelevant since you apparently have the emails in question that you have not identified.) The School has fully complied with your request and I trust this addresses any concerns you may have had."
The Index pushed for an answer and laid out more information about what it saw as omissions, even suggesting to Johnson that he review what was given to each newspaper with the Index-Journal's search terms so he could see for himself the discrepancies.
"I am not going to get into a letter writing campaign with you," he fired back on Nov. 17. "I have already explained to you that I do not have any way to know why emails that for whatever reason you think should exist do not, or should have been produced were not. I can tell you that no decision was made to filter out emails that came from outside the organization."
The Index then provided a specific email and asked why this wouldn't have come up with the search terms it provided. Johnson didn't have an answer.
"I do not know," he responded later that day. "If I did, I would tell you. The School used a vendor to retrieve the email stores and load them into a database tool called Cloud9 so they could be searched. I do not know why the database would have identified the email as responsive to the Post and Courier request and not yours."
An editor asked who could answer the question and did not get a response. The newspaper reached out to Keown by email on Friday for this story and got no response.
It remains unclear why public records the Index-Journal requested more than six months ago have not been provided. And more than 10 weeks after the newspaper first raised its concerns, the agency has not said whether it plans to furnish those emails or even an explanation.