Editor's note — The Index-Journal is one of the newspapers collaborating with The Post and Courier on the Uncovered investigative project.
"Might better mind your own tailgate."
"Careful who you downgrade me to, I might just know them."
"Tend to the skeletons in your own closet before telling blatant lies about me."
Tim Keown sent these comments and others in a "vitriolic" email to Frank Dorn that accused him of creating "a hostile work environment and one of paranoia," according to a lawsuit alleging Keown defamed Dorn.
Keown, then director of the education center at John de la Howe, was months from starting his current post as president when he sent the email, while Dorn was director of agriculture at the time. Keown moved Dorn to assistant director of facilities earlier this year.
The civil complaint, filed Friday in McCormick County court, also alleges Keown worked with Elizabeth "Libby" Templeton, a teacher who started in fall 2020, to "interfere with Plaintiff's job, undermine Plaintiff's professional credibility, and diminish his reputation in the agriculture community" ahead of stripping Dorn of his position overseeing the fledgling school's farm.
"Damages include reputational losses, diminished earning capacity, embarrassment, lost goodwill, shock, humiliation, and emotional pain and suffering," Dorn's attorney, J. Paul Porter, writes in the filing.
Keown and Templeton did not immediately respond to requests for comment.
"We are aware of the lawsuit and are reviewing the allegations. We do not comment on pending litigation and look forward to providing our response in court at the appropriate time," Hayley Belton, the school's director of public relations and marketing, said in an emailed statement.
The lawsuit comes as the South Carolina Governor's School for Agriculture at John de la Howe has come under sustained scrutiny for violating ethics and purchasing laws, with reports from the state Office of Inspector General and Division of Procurement Services detailing a laundry list of violations.
Those probes came in response to reporting as part of Uncovered, an investigative project spearheaded by the Post and Courier to ferret out questionable behavior among elected officials and public employees across South Carolina. The Index-Journal is one of 16 newspapers partnering with the Post and Courier for the project.
In April, Post and Courier revealed numerous cases of questionable spending, especially payments to contractors from Edgefield. The following month, the Index-Journal exposed how school leaders funneled hundreds of thousands of taxpayer dollars to their contractors of choice.
But the newspapers' investigations into the agency aren't finished.
After reviewing thousands of pages released through a public records request this summer, the Index-Journal unearthed emails that show:
Keown distrusts employees who were hired before Sharon Wall's tenure as interim school head.
Even as he dismissed claims of wrongdoing, Keown privately worried he would lose his job.
John de la Howe's board discussed public records requests behind closed doors, likely violating state law.
Keown only sought to investigate claims about his staff after newspapers exposed concerns, and might have misrepresented details to his board.
These latest Uncovered findings add to a portrait of an administration that is suspicious of anyone who raises concerns and had only reluctantly allowed others to review questionable practices at the school — discoveries that Dorn's lawsuit underscore.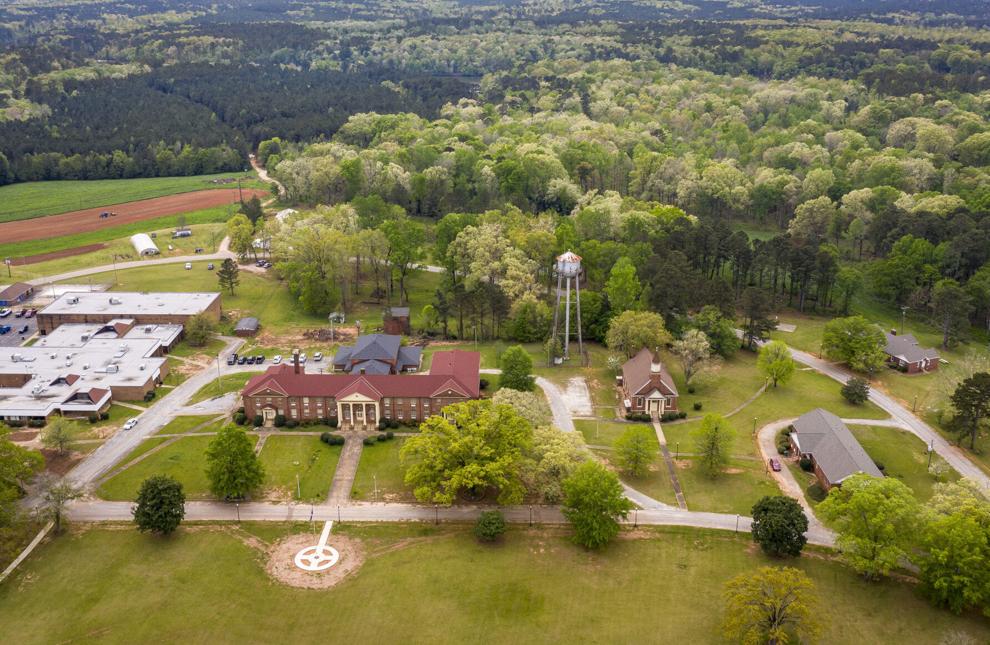 Falling out
During the 2016-17 fiscal year, John de la Howe was a boarding school for troubled youth with falling enrollment and a campus in disrepair. Dorn says he pitched the idea to lawmakers and coworkers that the school could become a school for agriculture.
In the summer of 2018, the plan that would turn the agency in rural McCormick County into a school for agriculture was put in motion, and Keown joined the school the following year.
Dorn and Keown "got along fine" at the beginning, the filing said, but Dorn grew concerned that Keown "was promoting himself more than the school" during recruiting trips and was often absent — concerns he initially kept to himself.
When the school looked for interim President Sharon Wall's replacement, the job posting required applicants to be certified as a superintendent, or be within one course of having certification. "The latter caveat was tailored to allow Defendant Keown to be hired to that role," Porter wrote.
When a board member asked Dorn whether Keown was up to the task of leading the fledgling agriculture school, Porter wrote that Dorn "honestly replied that he had concerns about Keown's ability to handle personnel matters and be a supervisor in the educational setting based on a lack of experience and the school's current capabilities."
In December 2019, de la Howe announced Keown would start as president July 1, 2020.
On Feb. 26, 2020, the complaint says Keown sent out a series of emails about Dorn.
The first was at 9:42 a.m. and landed in the inbox of a number of Dorn's coworkers alleging he didn't manage the grounds properly. Thirteen minutes later, Keown emailed Dorn to criticize him for "professionally and briefly interjecting into a meeting to greet an old friend who was visiting the School," the filing said.
"Focus on the farm and grounds (your lane), and not everyone else's business," Keown wrote in the email, which also went to Wall.
Then, at 2:27 p.m., he sent a longer missive to Dorn, which also copied Wall, that began: "I'm confronting all of these issues now before July and notating them for the record. I will not meet with you one on one to discuss any of this, only with a witness."
He accused Dorn of focusing too much on Keown's job and not enough on his own, and he alleged Dorn was the reason the school struggled to recruit students in Edgefield and Saluda counties, adding that "What you did in your personal life to make so many enemies in those counties is between you, them, and God."
"I'm sending all of these emails now as your peer, so that they are on the record before July," Keown wrote.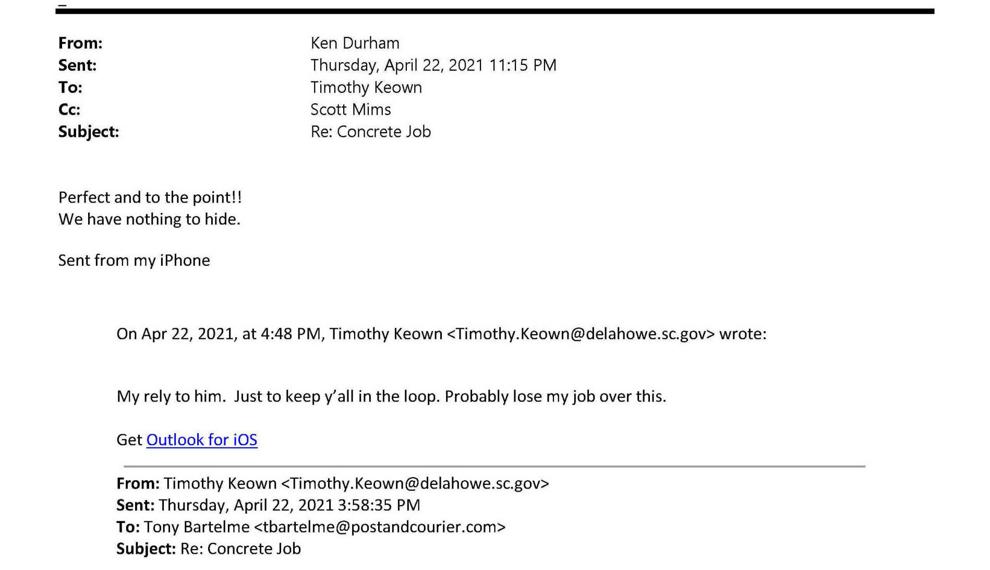 'Disgruntled'
"Probably lose my job over this."
The comment topped a message Keown forwarded in April to two subordinates. Below was an emailed response to The Post and Courier that downplayed concerns of favoritism and ethics violations, blaming allegations on "disgruntled maintenance employees" and accusing the newspaper of trying to sell papers.
Ken Durham, his head of facilities, responded: "Perfect and to the point!! We have nothing to hide."
Attributing allegations to angry current and former employees became a common refrain for Keown's administration, even as he worried those criticisms could endanger his job — he makes $111,000 a year, or about $5,000 more than Gov. Henry McMaster.

Responding to a lawmaker who reported hearing concerns from an anonymous caller about John de la Howe's facilities department in February, Keown went off about "disgruntled" former employees, then said the complaints could have come from a current employee. He wrote: "There are also some other disgruntled older employees in the business office. ... I will not put into email about that group, but we can talk later. It's basically the older employees before Dr. Wall came versus the new employees who are absolutely rocking and rolling!"
After lauding the success of de la Howe's students, Keown added: "The older employees hate to see success and this school idea is actually working! They want to go back DOING NOTHING like they did for the last 26 years. That's all that phone call was about."
He also offered to listen to the message from the anonymous caller to see if he could identify their voice.
Keown forwarded the initial email and his response to Durham, one of a number of emails sent to Durham with outside concerns or questions from journalists. Some were also sent to Wall and to Durham's second-in-command, Scott Mims.
In an email to board members after the first Post and Courier story published, Keown wrote that "the old disgruntled employees were the ones feeding the paper which we knew."
While dismissing concerns about the relationship between facilities employees and contractors as well as Wall joining a consulting firm that worked with John de la Howe after she negotiated the agency's new contract with the company, Keown was clearly nervous about questions from the Post and Courier.
In an email thread about a request from the Post and Courier under the Freedom of Information Act, Keown wrote: "We need to meet about this asap. Im still here in her office - they are late. I have not met with a soul yet. Im very anxious!!"
That note was sent to Durham, copying Wall, at 8:22 p.m. on March 9 — more than a month before Durham said the school had "nothing to hide."
Keown, who was recently named the 2021 Administrator of the Year by the South Carolina Association for Career and Technical Education, did not respond to questions sent more than a month ago about these emails.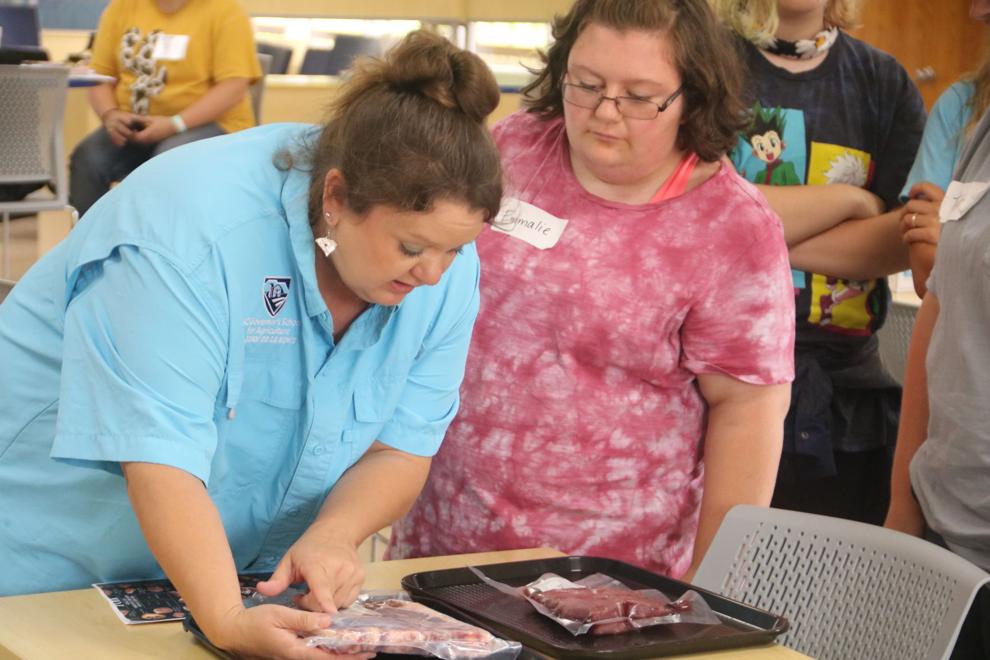 Questions about purchases
Months before The Post and Courier and Index-Journal's reporting as part of Uncovered raised concerns about the facility's department dealings with contractors and the blistering procurement audit that followed, Dorn's lawsuit said he flagged a requested purchase in a different department.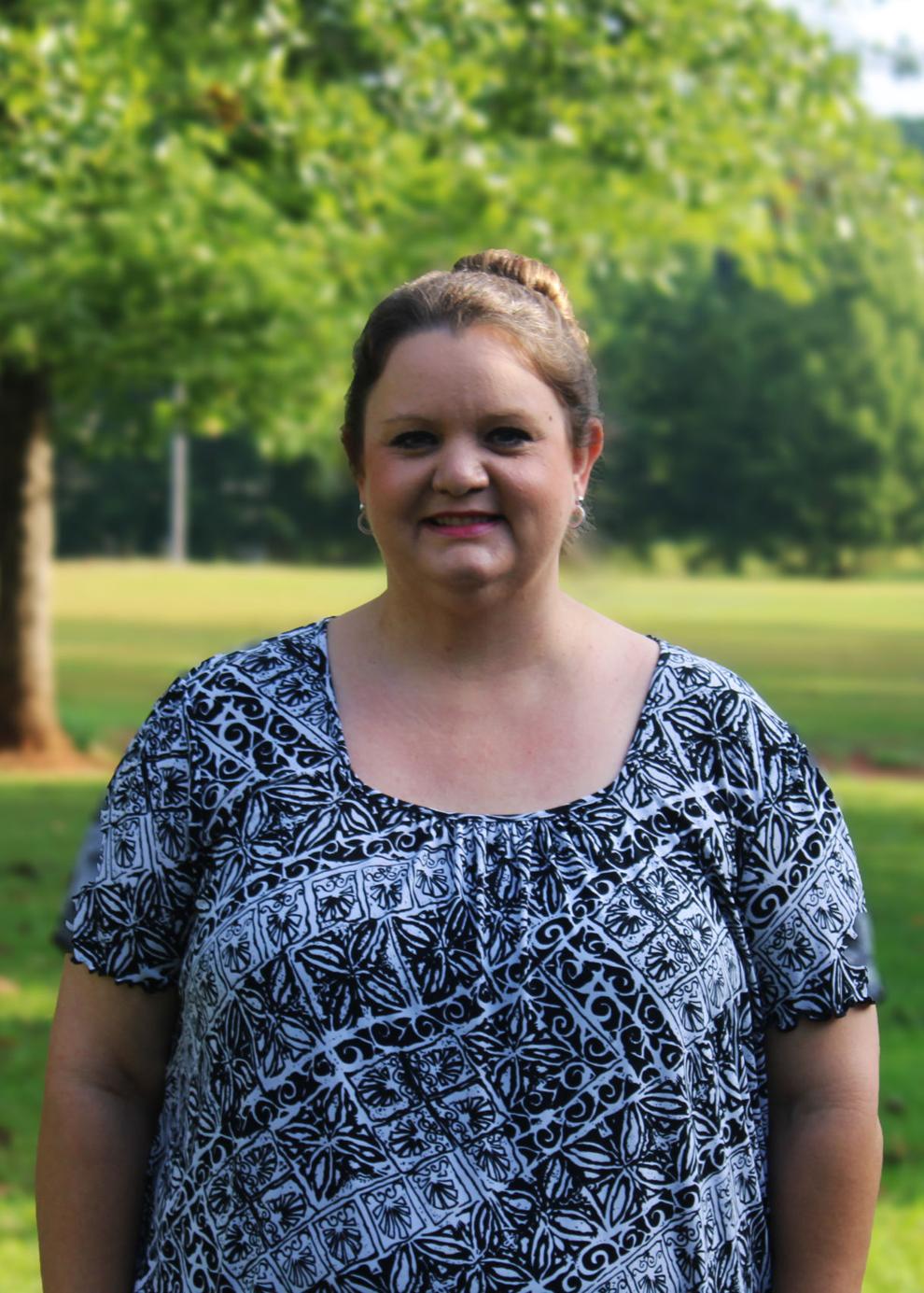 "Plaintiff learned at a department head meeting in August that Templeton, without consulting him, had a representative from a third-party company where her husband worked set to come to quote selling $45,000.00 of livestock handling equipment," the lawsuit said. "The design and plans at the third-party company were drawn up by Templeton's husband indicating he was directly involved in the sell."
Purchases of more than $10,000 require at least three quotes, a concern the lawsuit said Dorn raised with Templeton and other agriculture teachers. That purchase did not go forward, but the filing alleged three orders totaling more than $24,000 were made, but all below the $10,000 threshold "to end-run the procurement code."
Getting around procurement code by splitting purchases violates South Carolina law, and a state procurement audit found nearly $1 million in artificially divided purchases meant to stay below the $10,000 threshold as part of its litany of violations.
The lawsuit did not name the company, but her husband, Wayne, worked for Crouch Hardware & Farm Supply LLC at the time. The store is located in Saluda, a nearly 50-minute drive from de la Howe.
Payments to Crouch Hardware totaling $24,647.76 cleared on Nov. 3, according to information from the comptroller general's website. The online records do not spell out when purchases were requested or approved, only when the payments cleared the bank. In total, de la Howe paid the store $34,915.14 during the 2020-21 fiscal year. No purchases from the store were recorded before that year.
On Tuesday, the Index-Journal filed a public records request seeking documents pertaining to those purchases and any investigation into whether something was improper about the purchases.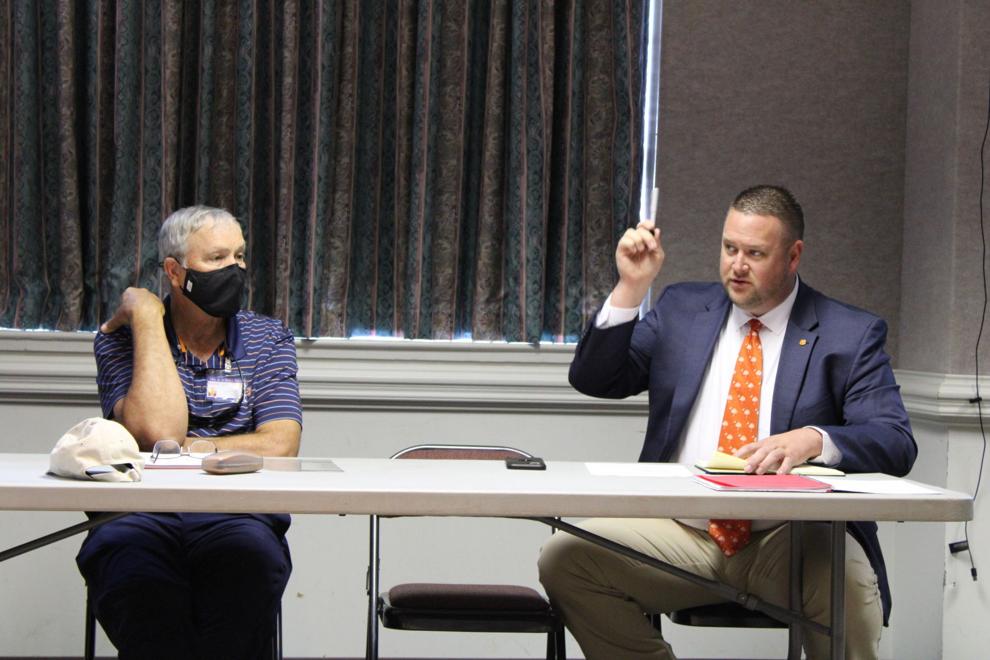 No answers
After the Post and Courier exposed ethically questionable behavior at the school in a story published online April 24, Keown told his board in an email that "it's not that bad" and that it was "just a light knock to the chin."
Yet, the board was concerned.
Owen Smith wrote that the "article is embarrassing even if it is not true" — the inspector general and procurement auditors have verified much of the story's findings — and the board decided that weekend to meet on Tuesday to discuss the piece.
"This is a reminder about what the Freedom of Information Acts (FOIA) request is about. At our last board meeting I informed you all about the FOIA requests submitted by the Post and Courier and Index Journal. We talked extensively about this in executive session," Keown responded as the board planned its meeting.
Boards may meet behind closed doors to discuss personnel matters, contractual matters, discussion of security personnel or devices, investigative proceedings or economic development matters. Missing from that list, which is enshrined in law, is discussing public records requests.
And when the board met April 27, it went behind closed doors to discuss the news coverage, which also is not covered by statute.
Board Chairperson Hugh Bland, who pledged the school was "above board" after that executive session, did not respond to a request emailed more than a month ago asking him to explain how these executive sessions complied with the law. The same question was posed to Keown, who also has not responded.
After the meeting, Keown emailed the board to let members know he asked the inspector general to investigate.
Smith responded to note that Mims' relationship with Shannon Philpott, owner of Faith Remodeling 2 Construction and a business associate of Mims who was awarded $70,000 in work, did not come up at the meeting.
Keown responded: "Mims is on our payroll. A company got the bid but he does not partially own it. He owns the Edgefield Pool Room (a hamburger place) with the guy. ... I was not aware of there association until this article came out."
However, when the Post and Courier and Index-Journal interviewed Keown and other de la Howe employees on April 14, the relationship came up. And an email Keown forwarded to Durham about the "Scott Mims/Faith Remodeling bid issue" on April 15 cited the state ethics law.
Keown did not respond to a question about the discrepancy or whether he misled his board. He also did not explain why he failed to request an investigation into the conduct of his staff before the first story was published, even when concerns were raised at least as early as February about how his facilities staff awarded contracts.
As the SIG review unfolded, Keown told the Index-Journal that Inspector General Brian Lamkin "hasn't found anything of concern but has offered some procedural advice which I have already implemented." The review and resulting report had five findings, highlighted a need for training in ethics and state purchasing policy, and led to the scathing procurement audit. Many of Lamkin's findings appeared to have been shared with the administration before Keown's email to the Index. He did not respond to a request for clarification on his earlier comment.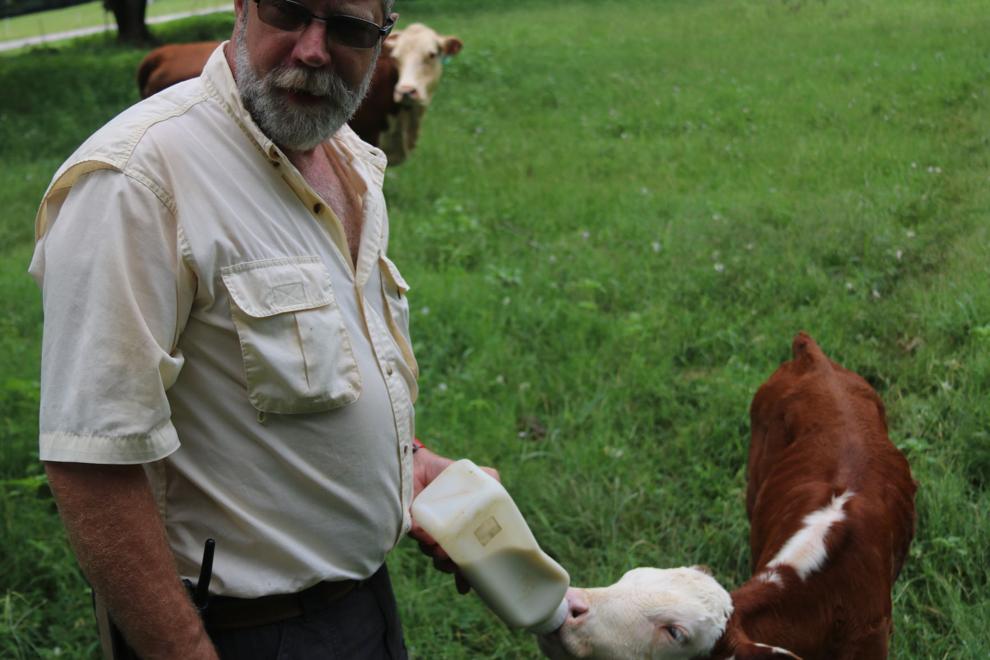 'Not a demotion'?
After Dorn spoke up about Templeton's requisition request, his attorney says Templeton had it out for him; she complained about the treatment of animals and Dorn's job performance, and she encouraged students and parents to file complaints.
On Feb. 3, Keown met with Dorn and "lobbed several false and exaggerated complaints" about the agriculture, which the lawsuit says could mostly be traced to Templeton. Keown told Dorn he was being put on a performance improvement plan, but as of the time the lawsuit was filed, no plan had been provided.
"Plaintiff submitted a letter to his personnel file challenging the accusations against him documenting his concerns Templeton's conduct and the suspicious purchases discussed above," his attorney wrote.
Dorn disciplined subordinates on March 19 for not working — the lawsuit says Keown supported the action at the time — and was told three days later that three of his workers reported being afraid of Dorn so he was being removed from his post. Now he was assistant director of facilities, a newly crafted position with no job description.
"Keown was careful to emphasize that this was not a demotion such that Plaintiff could not file a grievance over it," the complaint said.
With Dorn in another post, the lawsuit alleges Templeton effectively became the new farm boss, and "after four months, the farm and grounds deteriorated to the point that a new farm manager position was created." An applicant for the position was among those who Templeton told to complain about Dorn, the filing said. Meanwhile, Dorn "has since endured nit-pickiness and assignments intended to humiliate him into resigning."
The complaint also alleges the "School recently promulgated a code of ethics that, among other things, prohibited communication between employees and Board Members in a further effort by Defendant Keown to secure his power over the school without oversight from the Board."
Nothing personnel
Job descriptions, performance reviews, commendations, disciplinary actions — for public employees, this information is mapped out in a set of documents known as a personnel file.
While some of its contents contain private information, such as social security numbers and medical information, a great deal of it is public record because tax dollars pay those employees. South Carolina court rulings favor release of reasonably public information in those files.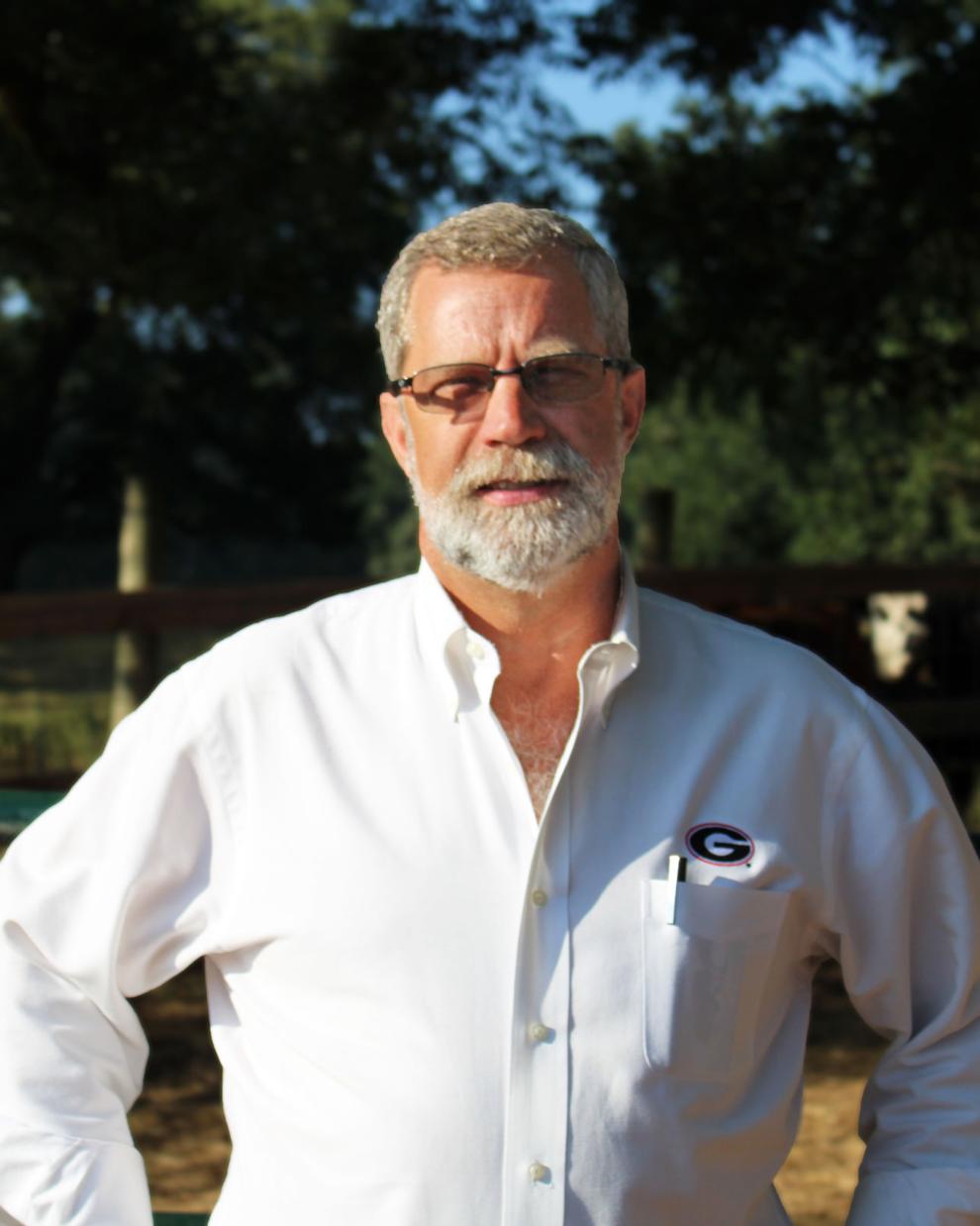 But what's in Dorn's personnel file?
It could contain documents that verify his allegations, or perhaps it has records that explain why he was moved from his post. However, the agency has not made the file available.
The Index-Journal requested several personnel files, including Dorn's, on Aug. 10. After waiting the 10 business days allowed by law, John de la Howe responded on Aug. 24 with an estimated cost to produce of $125. The Index-Journal cut the check on Aug. 26 — it paid the full amount instead of just a required 25% deposit to expedite production — and the check cleared the bank Sept. 3.
After receiving payment, de la Howe had at most 35 calendar days to produce the documents, a task the school thought would take just five hours. That deadline came and went last week. When asked Monday, Hayley Belton, the school's director of public relations and marketing, seemed unaware that de la Howe had even received the check. 
In a follow-up email Tuesday morning, Belton said: "Our Human Resources Liasion plans to have the requested documents to me this afternoon so I should be able to provide them to you after review either later today or first thing tomorrow morning."
As of this writing, the documents had not been produced.
This was actually the second request as the school mistakenly thought personnel files were not subject to disclosure — at the time, Keown said this came from the school's attorney, Chris Johnson — and denied the request months earlier, before the first Uncovered story on the school was published.
It's yet another example of John de la Howe's struggles to comply with South Carolina's public records law.
The Index has already highlighted the vague language de la Howe used in responses that could allow the agency to arbitrarily exclude information — a practice it seems to have dropped.
But a batch of emails released this summer had notable omissions.
Lacking were nearly any emails sent from outside the agency, aside from those contained within forwarded messages. This includes any email that Durham or Mims would have received from contractors, a curious omission since the relationships between the facilities department and contractors are at the center of much of this year's reporting and external probes. Also missing were emails from consultants, including Wall, that would have come in response to emails from Keown that were released.
That's not to say no emails from outside the agency were provided. Some were — but nearly all were part of 100 emails that were outside the scope of the Index-Journal's request. Attached to one of these unsought emails was a 1,200-page user guide to software. Meanwhile, just one email from outside the agency was included in the documents that were responsive to the newspaper's request.
Belton, who is also de la Howe's FOIA contact person, did not answer questions sent Sept. 8 about what was and wasn't released.
About the only thing John de la Howe has consistently understood about FOIA is that the school does not need to provide documents any sooner than those deadlines set in statute, a way public bodies use the public records law as a cudgel to slow or prevent the release of unsavory information.
At no point has the school come off records any quicker than spelled out by law, and on several occasions this year, the Index-Journal and Post and Courier have had to push the school to release records after it violated those deadlines.
For an agency that contends it has nothing to hide, John de la Howe struggles with transparency.