Potters with first Earth into Art sale talk about growth of clay arts in Greenwood
ST. CLAIRE DONAGHY | INDEX-JOURNAL
A few of the potters with the first Earth into Art sale, May 8, talk about growth of clay arts in Greenwood, starting with Piedmont Technical College's pottery program in Edgefield, Lander University and the Arts Center of Greenwood expanding their offerings. Hear from Beverly Burton, Barbara Warner and Esperanza Landeros.
As featured on
From floral-handled mugs to whimsical cat-shaped plates, lighted houses and more, Earth into…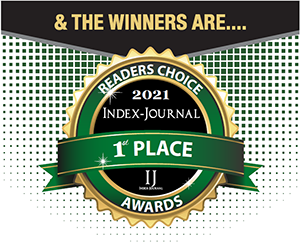 2021 Readers' Choice Awards
& the winners are!
See our Special Readers Choice section here
District Calendars
Get Your 2020-2021 School District Calendars here!
Greenwood School District 50, Abbeville School District and Ninety Six School District 52 Calendars are available here!!! Click to view calendars here.